Testing the First Amendment in the US is Dangerous
...
Should citizens be afraid to speak out, propose legislation to elected officials, and to complain about crime and drug activity near their home?
18 School St. Somersville, CT

I bought this 2 family house in Nov. 1997, and renovated everything inside and outside, from the roof down. I was getting $1050/month for the back 4 bedroom apartment, and $950 for the front. I lost these for being beaten up during a robbery attempt on the 5 Church St. Stafford Springs, CT, and ending the attack with pepper spray. The police informant that was encouraged to attack me wasn't even arrested.
I think the real reason is I had pissed off the cops demanding they do their jobs regarding crime and drug dealing, and the reality is that they wanted to do as little as possible except to commit perjury, harass me, and railroad me to prison out of my productive, honest life.

My daughter, family, and the local economy suffers. Proposing Civilian Oversight of Police and Court Reform should not land a citizen directly in prison. Neither should writing things in newspapers that police and other officials don't like

... or should I say testing the 1st Amendment in Connecticut is dangerous.
The First Amendment to the Constitution
Congress shall make no law respecting an establishment of religion, or
prohibiting the free exercise thereof; or abridging the freedom of speech, or of
the press; or the right of the people peaceably to assemble, and to petition the
Government for a redress of grievances.
THE UNITED STATES CONSTITUTION
Amendments to the Constitution
Those that I think should be arrested, investigated, and thrown in prison for abusing my 1st Amendment rights:
Judge Jonathan Kaplan of Rockville (Vernon) Court Connecticut
I tried to get Kaplan fired from about 1996 after he ruled in favor of a woman that I believed was committing insurance fraud in the Rockville Court, Small claims case Haas vs. Erickson, writing a nasty letter to Kaplan with the docked # stated to the Court Clerk. I also tried to have Jonathan Kaplan fired through the 2 landlord groups I belonged to, and through State Senator Anthony Guglielmo and former Rep. Mordasky. Kaplan after all of my efforts criticizing him, sat in judgment of me on a bogus criminal matter, retaliating on me for trying to fire him and for pissing off his buddy, the former Connecticut State Police Commissioner, Arthur L. Spada.
A former Rockville Judge and associate of Kaplan, former Connecticut State Police Commissioner, Arthur L. Spada
The lawyer, Attorney Michael H. Agranoff, the Kaplan allegedly told that he wasn't allowed to defend me, nor dispute Connecticut State Police perjury, nor the Prosecutor for his over $17,000 fee.

(Me telling Agranoff to go fuck himself on a FreeSpeech.com post)
Former Govenor John G. Rowland of Connecticut
I had been critical of Rowland and the Connecticut State Police from the day I wrote in support of Connecticut Sheriffs in Connecticut, when I was printed on the same day in the Hartford Courant and the Journal Inquirer, Fall 1998. I started complaining to Rowland's office and to other officials regarding crime, drug dealing, and that little to nothing was being done about it. Connecticut State Police then began their campaign of harassment and targeting me for a fall, absolutely refusing to give me any protection and service.
The History of Abuse of Citizens arbitrarily caught up in the legal system
(A story of a governor, a blowjob, and Connecticut State Police investigation outcomes for sale to the highest bidder)


Just a few things I had before testing the 1st Amendment, which is supposedly protected in the US: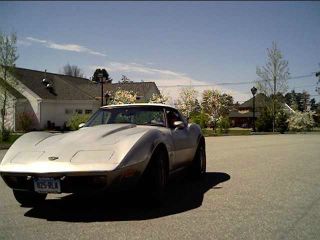 1978 Silver Anniversary L-82 Corvette 4sp

3 and 5 Church St. Stafford Springs, CT

I fixed these up from a boarded up condition. These two properties and my School St. property grossed me over $6500/month, my retirement and income. I worked over 4 years of my life, on my knees- my sweat and blood. I saved my money, maintained good credit, stayed away from drugs and crime, and pursued the American Dream. Connecticut State Police Officers and the courts passed over heroin and crack cocaine dealers, vandals, thieves, prostitutes, pimps, common criminal parasites, and other vermin to nail me for complaining about crime and officials doing little about it.
The letter I wrote to President Bush weeks before I was attacked by the police informant and the response to that letter
Are Judges above the law?
Steven G. Erickson aka Vikingas favorite links
My picture and story on injusticebusters.com
Anatomy of the Good Ole Boy Network
Steven G. Erickson
PO Box 730
Enfield, CT 06083-0730
stevengerickson@yahoo.com
* * * *
A post with my picture where I email these folks:
attorney.general@po.state.ct.us
,
Anthony.Guglielmo@po.state.ct.us
,
John.A.Kissel@po.state.ct.us
,
Governor.Rell@po.state.ct.us
,
ltgovernor.sullivan@po.state.ct.us
,
Coleman@senatedems.state.ct.us
,
news@journalinquirer.com
Found
(here)
* * * *
added 10:10 AM EST July 24, 2005:
(I'm not being critical, nor promoting Bush with the above photo. I was looking for a picture of Uncle Sam and found the above
here
.)

Direct cause and effect
Lodge a complaint or piss off a powerful official and something happens to you.

I see it over and over.

So, knowing and seeing that, can I say we are truly free in America?

No, I can't.

If those that have positions are allowed to decide who lives, who dies, who does well, who does not, who goes away to prison, who does not, then those people are first class and all others are second class.

For those of you expecting America and its officials to act as advertised, seeing that it doesn't, and then demanding that it does, there are arrests, prison, and worse for you.

Those that govern do so with our consent. When too much of our money and tolls on our families and personal existence are taken, we the people stand together.

We should do more to peaceably exert change for the common good before it is too late.

Freedom and rights aren't guaranteed and do not exist if they're not protected nor fought for.

Being forever vigilant and questioning authority is American, not Fat, Lazy, and Stupid.
-
Steven G. Erickson aka Vikingas
* * * *
US World Police and Jailers
Getting Involved in the Legislative Process and/or Complaining about Officials
can be detrimental to your quality of life, credit, retirement, your family, and in extreme cases may cost you your life, even in America.
(The Steven G. Erickson, Christopher Kennedy, Mark Gaines, Donny Christmas, William "Bill" Mulready stories. Includes my picture while I'm enjoying a dark brew)
Ethics and Rowland-gate
Connecticut Judges, HOWARD SCHEINBLUM and JONATHAN J. KAPLAN were named as defendents in
this Federal RICO civil suit
.
* * * *
Connecticut Governor M. Jodi Rell shaking hands with Steven G. Erickson 12:15 PM EST July 1, 2005

I brought up
Chris Kennedy
.
* * * *
My letter written to former Connecticut Governor John G. Rowland meant to be his first letter on his first day in federal prison in Pennsylvania.
(click here)
A Connecticut State Police Officer's limp winky, gross police misconduct, and other links and 'out there' links.
(click here)
click on white envelope below to share this post.