Sizzling Fast?
AMD to launch 45nm quad-core Phenoms on 8 January 2009
4th September 2008 13:02 GMT
What desktop processors are AMD planning to release during the final three months of the year? A leaked roadmap slide reveals all. And its first 'Deneb' desktops will debut in January 2009.
The slide, sent to Spanish-language site ChileHardware, highlights 8 October as the next entry on AMD's calendar. On that day it'll launch the 2.5GHz, 95W Phenom X3 8850 and the 2.6GHz, 45W Athlon X2 5050e.
The following month, we'll see the arrival of the 1.6GHz Athlon 2650, a chip that consumes a mere 15W, though it's only a single core part. However, it'll be accompanied by the dual-core Athlon X2 3250e, a 1.5GHz chip that consumes up to 22W.
December will see the launch of a second, clock-unlocked version of the Phenon X3 8850.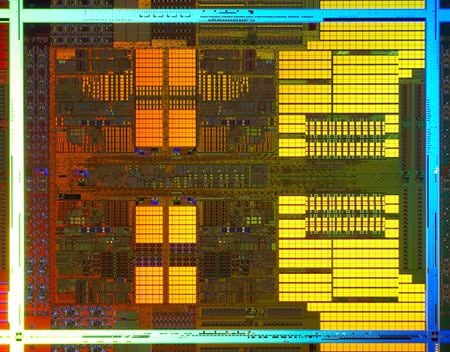 AMD's 'Deneb' core: launching in January 2009
The December section of the roadmap also lists a pair of quad-core Phenom X4s, one clocked at 3GHz, the other at 2.8GHz. Neither has a model number, but they're Deneb 45nm chips said to be "under embargo until Jan 8th".
[
more of piece
]
* * * *
* * * *
I don't know what will push Vista any faster. I have used laptops with equal processors to evaluate. One had 2 gigs of Ram with Vista, and the XP laptop smoked it with only 512 megs of RAM. I would like to spend more time evaluating a Mac.
I was using a Dell, vintage 1999 to 2000 with XP loaded a couple of years ago and the RAM about maxed out at 512, a 700 processor, and a whopping 18 gig hard drive. It did all I wanted it to do, and if I needed a video rendered, I just left it to do its thing ... all night long.