US Taxpayers are Funding Foreign Nation Destabilization
If most Americans were asked if they would work 8 hours a day, and then have more than 4 hours each day set aside for the puppeteers of the US Government to destabilize nations not already controlled by the World Banking Mafia and Corporate Cabal, would they agree to pay? Would most Americans agree to fund two illegal wars of occupation where they fund robbery, rape, false imprisonment, beatings, torture, genocide, and enslavement, if asked?
Americans are asking these same people to care about them and to take over their health care. Should these criminals be trusted with any of our money and should they be allowed to breathe outside a prison cell?
We the people need to have referendums where we vote on some very basic issues. Our representatives really represent those who fund them. You know who those criminals are in the banks and corporations. We the people need to force our will upon our government, not the other way around. Let's do something before it is too late.
stevengerickson AT yahoo Dot com
US influence in Venezuelan elections
Text with video:
The Venezuelan election campaign ended with both sides claiming they are fighting a battle of good vs. evil. The opposition suggests the election is an issue of democracy vs. communism, while the pro-Chavez elements insist it's the typical story of rich vs. poor. Robert Naiman says the United States might try to delegitamize the election similar to the 2004 election.
* * * *
* * * *
I posted the below comment in the Opednews.com article re-posted below it:
Government Covert Operations
Very little of what the government is doing to citizens behind the scenes to citizen makes the mainstream news. Those who contact government officials about issues can be spied on and then set up for their lives to be ruined and then to further punish the outspoken, a railroad job to prison is in order. Ken Krayeske, a former Green Party Campaign manager and journalist, was put on the Connecticut State Police arrest on sight "Enemies List" for being critical of Connecticut Governor M. Jodi Rell.
by Steven G. Erickson (2 fans, 8 articles, 5 quicklinks, 170 diaries, 831 comments [573 recommended]) on Sunday, Sep 26, 2010 at 11:07:28 AM
The below re-posted from:
http://www.opednews.com/articles/Stand-with-Anti-War-Activi-by-Press-Release-100925-392.html
Stand with Anti-War Activists Targeted by the FBI!
ANSWER condemns FBI intimidation tactics
The ANSWER Coalition unequivocally condemns today's FBI raids on the homes of anti-war and solidarity activists in Illinois and Minnesota, and the intimidation of activists there and elsewhere.
This morning, Sept. 24, teams of FBI agents from the "Joint Terrorism Task Force" served search warrants and grand jury subpoenas on the activists, allegedly relating to political speech in defense of the Palestinian and Colombian peoples. The FBI subpoenaed around a dozen activists to testify before a grand jury in Chicago in October. They confronted and intimidated activists in additional states as part of the operation.
Grand juries are notorious political tools used by the government against progressive activists when it lacks actual evidence against them.
The targeted activists have done nothing wrong. They are long-time organizers in the struggle for justice in the United States and against U.S. wars and repression abroad. They are leaders of organizations like the Twin-Cities Anti-War Committee, the Palestine Solidarity Group, the Colombia Action Network and the Freedom Road Socialist Organization, among others. Many of the targeted activists helped organize the successful mass mobilizations at the RNC in Minneapolis, Minn. in 2008. Now, the government is attempting to implicate them in a bogus federal "terrorism" investigation. These allegations are baseless, reactionary and wrong.
The aim of the FBI raids is clearly the suppression of free speech and dissent. The government wants all activists to be afraid to speak out. And the Obama administration's Justice Department is now leading the charge. But we cannot allow the government to stamp out the right of people to advocate for political beliefs that do not align with the aims of the Pentagon war machine. We cannot allow them to continue to erode our civil rights and civil liberties.
ANSWER encourages all anti-war activists to follow the example of the targeted activists if you are confronted by the FBI or other police agencies. The activists have refused to engage in conversations with the FBI about their political beliefs and anti-war organizing.
It is important for all activists and organizers to know your civil rights. People have the right to remain silent and to consult with an attorney. Even if the FBI shows up at someone's home or office with a warrant, you are not required to engage in conversation. It is better to say to FBI or other law enforcement agents, "Let me have your contact information and my attorney will call you." People will gain nothing by engaging in discussions with FBI officers.
ANSWER stands in full solidarity with our targeted sisters and brothers in the anti-war movement. We vow to struggle alongside them until the government harassment ends and they are completely vindicated.
An injury to one is an injury to all!
A.N.S.W.E.R. Coalition http://www.answercoalition.org/ info@internationalanswer.org National Office in Washington DC: 202-265-1948Boston: 857-334-5084New York City: 212-694-8720 Los Angeles: 213-251-1025 San Francisco: 415-821-6545 Chicago: 773-463-0311
* * * *
* * * *
[
click here
] for:
[
more
]
* * * *
From the Kenny's Sideshow blog: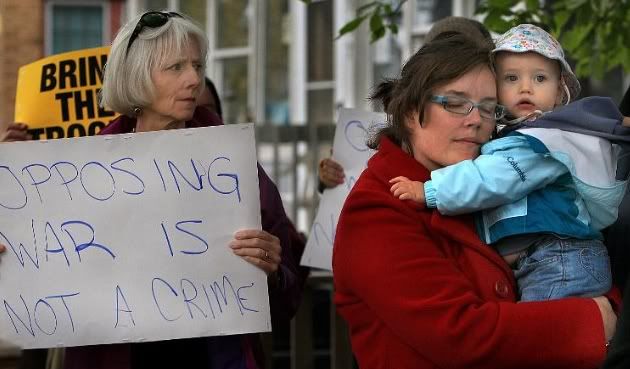 Meredith Aby held her daughter, Audry, 1 ½, tightly as others spoke at the news conference. FBI and police officials raided Aby's home earlier in the day.
It's been just a couple of days since
a Senate panel was told
by
Homeland Security Secretary Janet Napolitano, FBI Director Robert Mueller and Michael Leiter, head of the National Counter-terrorism Center, that "domestic radicalization" had become more pronounced.
Napolitano
warned that "a new and changing facet of the terrorist threat comes from homegrown terrorists
." [
more from source
]
* * * *
More on the above subject:
http://original.antiwar.com/roberts/2010/09/24/it-is-official-the-us-is-a-police-state/
* * * *
* * * *
http://thesrv.blogspot.com/2010/03/posterboy.html
* * * *
* * * *
Panopticon UK, 9/11 Truth Censored, Canada Appoints G20 Cover-up - Sunday Update
Text with video:
http://www.corbettreport.com

SOURCES AND DOCUMENTATION:

HMRC Proposes All Employee Paychecks in the UK Be Sent To the Government
http://ur1.ca/1s1bv

George Bull Decries the Proposal
http://ur1.ca/1s1c9

All Brits email, text messages, phone calls and faxes are spied on
http://ur1.ca/1s1ch

Brits being placed under CCTV surveillance in their own homes
http://ur1.ca/8cq7

Citizens Spying on Other Citizens
http://ur1.ca/1s1cx

Talking Liberties - Surveillance and the Panopticon
http://ur1.ca/1s1d0

Citizens vs CCTV: Europeans Protest Big Brother
http://ur1.ca/1s1d1

Project Censored Censored Over 9/11
http://ur1.ca/1s1da

Project Censored Interviewed on Guns and Butter
http://ur1.ca/1s1di

Soetoro vs. Ahmadinejad
http://ur1.ca/1s1dr

9/11 Victims' Family Members Question 9/11
http://ur1.ca/1s1dz

Zogby poll shows 66% of New Yorkers want new 9/11 investigation
http://ur1.ca/1s1e8

Over 70% of Americans think the gov is lying or hiding something about 9/11
http://ur1.ca/1s1ed

Former Italian President Questions 9/11
http://ur1.ca/1s1eo

Former German Defense Minister Questions 9/11
http://ur1.ca/1s1er

Current Japanese Diet Member Questions 9/11
http://ur1.ca/1s1ew

Dozens of Political Figures Sign Up to Political Leaders for 9/11 Truth
http://ur1.ca/1s1f1

Engineers, architects, family members, pilots, professors, law enforcement, military, intelligence officials and government officials question 9/11
http://ur1.ca/1s1f7

Ontario Government Appoints G20 Cover-up Commission
http://ur1.ca/1s1fi

Police Lied About G20 Powers
http://ur1.ca/1s1fo

The Star incorrectly reports on G20 fence law
http://ur1.ca/1s1g3

The Globe and Mail report that G20 police can do absolutely anything
http://ur1.ca/0jl1f

G20 Provocateurs
http://ur1.ca/1s1gn

Journalist charges G20 police with rape and assault
http://ur1.ca/1s1gq
-

* * * *
* * * *
[
click here
] for:
[
more
]
* * * *
http://starkravingviking.blogspot.com/2010/09/puerto-rico-112-years-of-us-occupation.html
* * * *
* * * *
Labor Beat: Chicago Press Conference Protests FBI Raids
Text with video:
On Saturday, Sept. 25, 2010 a press conference was held to protest the FBI raids the day before on Chicago-area anti-war activists. In an attempt to intimidate and silence activists critical of U.S. foreign policy and militarism. Joe Iosbaker and his activist wife Stephanie Weiner had their home invaded by the FBI and searched for 12 hours. They even put in "evidence" bags drawings that their children made. Includes comments by their attorney Melinda Power. The space at the West Town Community Law Office was packed with about 75 supporters from numerous community and anti-war groups who made enthusiastic chants of solidarity at the end of the press conference. Iosbaker vowed that this McCarthy era-type government intimidation will not deter the anti-war movement from building an upcoming Midwest regional march on Oct. 16. Length - 9:28. Produced by Labor Beat. Labor Beat is a CAN TV Community Partner. Labor Beat is a non-profit 501(c)(3) member of IBEW 1220. Views are those of the producer Labor Beat. For info: mail@laborbeat.org, www.laborbeat.org. 312-226-3330. For other Labor Beat videos, visit Google Video, YouTube, or blip.tv and search "Labor Beat".